Abrasion Resistant Steel - Rockstar 450 Plates
Abrasion Rockstar 450 Plate Supplier, Rockstar 450 Steel Plates Price List in India.
Distributor of Rockstar 450 Plates, Rockstar 450 Abrasion Resistant Steel Plates in Mumbai, India.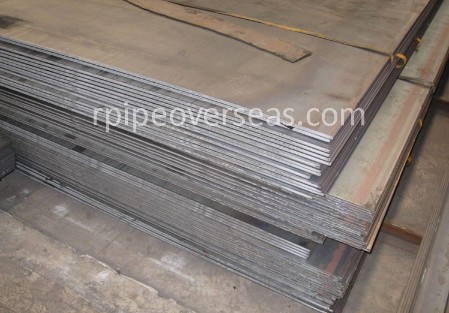 Original Photo Of Our Abrasion Resistant Rockstar 450 Steel Plates Stockist In Mumbai, India.
R Pipe Overseas is one of the makers, suppliers and Manufacturer of Rockstar 450 Abrasion Resistant Steel Plates . Abrasive resistant steel plates have an excellent combination of hardness, abrasion resistance, toughness, flatness, formability and weldability to meet fabrication demands and application requirements. Designed for through- hardness, Rockstar 450 has relatively low carbon equivalent for superior weldability and is supplied in quenched and tempered condition.
Low-Temperature Rockstar 450 Steel Plates Exporter, 450HBW Rockstar plates, Rockstar 450 Liner Plates Stockholder, Rockstar 450BHN Plate, Rockstar 450LT plates Dealers in Mumbai.
Specification Of Rockstar 450 Plates
| | |
| --- | --- |
| Item | Abrasion Resistant Plate |
| Material | Rockstar 450 |
| Thickness | 6mm to 75mm |
| Width | 1,500mm to 2,500mm |
| Length | 6,000mm to 12,000mm |
| Heat Treatment | N, Q+T |
| Surface Paint | EP, PE, HDP, SMP, PVDF |
Chemical Composition Of Rockstar 450 Plates
Plate Thickness
C
Mn
P
S
Si
Cr
Ni
Mo
B
CE
PCM
mm
Max %
Max %
Max %   Max %   Max %
Max %
Max %
Max %
Max %
Max
Max
6.0 – 20.0
0.16
1.60
0.025
0.010
0.70
0.50
0.25
0.25
0.0040
0.45
0.28
21.0 – 32.0
0.18
1.60
0.025
0.010
0.70
1.00
0.25
0.25
0.0040
0.48
0.29
32.1 – 50.0
0.22
1.60
0.025
0.010
0.70
1.40
0.50
0.60
0.0040
0.57
0.33
50.1 – 75.0
0.22
1.60
0.025
0.010
0.70
1.40
0.50
0.60
0.0040
0.65
0.40
Mechanical Properties Of Rockstar 450 Plates
Hardness
360-430 BHN (On a milled surface 0.5-2 mm below the plate surface)
Yield Strength (MPa)
Tensile Strength (MPa)
% Elongation
Impact at -30°C
(L0=50 mm)
(In Joules)
Typical values for 20 mm
1000
1250
12
40

Abrasion Resistance Steel Plate Rockstar 450 Price in India

Rockstar 450 Steel Plate
We are dedicatedly engaged in manufacturing, supplying and trading a vast array of Rockstar 450 Steel Plate
Check Price In India -
Rs 105/ Kilogram

Rockstar 450 Plates
We are importers and stockist for Rockstar 450 Plates
Check Price In India -
Rs 125/ Kilogram

ROCKSTAR-450 Abrasion Resistant Steel Plates
ROCKSTAR-450 Abrasion Resistant Steel Plates is used in areas where there is likely to be a high degree of abrasion of the steel plate
Check Price In India -
Rs 150/KG

Abrasion Resistant Rockstar 450 Steel Plate
We are importers and stockist for Abrasion Resistant Rockstar 450 Steel Plate
Check Price In India -
Rs 95/ Kilogram
Our Sales Associates are available in below Countries :
India, United Arab Emirates, Canada, Angola, Argentina, Austria, Peru, Chile, Spain, France, United Kingdom, Indonesia, Israel, Iran, Kuwait, Mexico, Malaysia, Nigeria, Serbia, Singapore, Taiwan, Chile, Brazil, Colombia, Ghana, Iran, Denmark, Poland, Costa Rica, Egypt, Iraq, Jordan, South Korea, Poland, Azerbaijan, Pakistan, Kazakhstan, Sri Lanka, Lithuania, Norway, Oman, Philippines, Saudi Arabia, Bangladesh, United States, Qatar, Russia, Vietnam, South Africa, Nigeria, Mexico, Turkey, Hungary, Algeria, Belarus, Belgium, Bhutan, Lebanon, Morocco, Mongolia, Bolivia, Bulgaria, Australia, Afghanistan, Bahrain, Croatia, Venezuela, Ecuador, Netherlands, Czech Republic, Estonia, Finland, Greece, Italy, Japan, Libya, Romania, Thailand, Trinidad & Tobago,Tunisia, Ukraine, Yemen, Hong Kong, Gabon, China, Portugal, Switzerland, New Zealand, Sweden, Slovakia, Kenya
Our Dealers and Distributors are available in below Cities :
Mumbai, Pimpri-Chinchwad, Vadodara, Kolkata, Gurgaon, Chennai, Surat, Dubai, Seoul, Hyderabad, Singapore, Abu Dhabi, Ahmedabad, New Delhi, Bengaluru, Tehran, Calgary, Noida, Riyadh, London, Kuala Lumpur, Rio de Janeiro, Dammam, Coimbatore, Jakarta, Istanbul, Bangkok, Kuwait City, Sharjah, Muscat, Edmonton, Busan, Bhopal, Ulsan, Faridabad, Houston, Jeddah, Aberdeen, Cairo, Geoje-si, Perth, Santiago, Chandigarh, Indore, Melbourne, Madrid, Thane, Navi Mumbai, Pune, La Victoria, Bogota, Lahore, Los Angeles, Algiers, Chiyoda, Ankara, Ho Chi Minh City, Toronto, Hong Kong, Rajkot, Brisbane, Petaling Jaya, Ernakulam, Secunderabad, Gimhae-si, Al Jubail, Port-of-Spain, Thiruvananthapuram, Milan, Ludhiana, Moscow, Dallas, Haryana, Colombo, Atyrau, Lagos, Hanoi, Howrah, Sydney, Ahvaz, Mexico City, Doha, Karachi, New York, Caracas, Vung Tau, Al Khobar, Manama, Montreal, Granada, Courbevoie, Visakhapatnam