Boiler Steel Plates
Boiler Steel Plate Supplier, Boiler Quality Steel Plate Price, Hot Rolled Steel Plates Price List in India.
Distributor of high temperature steel plate, Boiler Plate Steel Grades in Mumbai, India.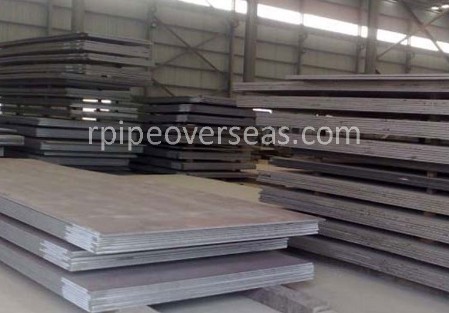 Original Photo Of Our Boiler Steel Plates Stockist In Mumbai, India.
Whether you need an offshore specification Boiler Quality Steel Plate in Singapore, Boiler Steel Plate in Indonesia, or a pressure vessel plate in Saudi Arabia, we have floating stock of 800 ton Steel plates and logistical skills to deliver what you want when you need it.

At our stockyard / warehouse in Kalamboli, Navi Mumbai, Maharashtra, INDIA Steel Plates are available in a wide range of special metal grades like Manganese Steel, Alloy Steel, and Stainless Steel in numerous specifications. All Steel Plates Stocks are held to ASME, ASTM, EN, and API, Steel Plates are always available in surplus stock up to 15 metres long, 4 metres wide, and 300 millimetres thick. We are able to offer a solution to virtually any sourcing problem about Steel Plates.

R-Pipe Overseas is the only supplier of Boiler Steel Plate, Hardox 400 Plate, Abrex 400 Steel Plate, Wear Resistant Steel, Sailhard Tiscral Las 07 Plate, Ar 400 Plate, High Manganese Plate, Hardfield Manganese Plate, Welten 780E Plate in India who delivered steel plates to Saudi Arabia in 3 days, to Sri Lanka in 2 days, to Iran in 8 days, to Singapore in 12 days, to Kuwait in 5 days, to United Arab Emirates in 3 days, to Japan in 10 days, to Qatar in 4 days, to Indonesia in 7 days & to Taiwan in 5 days. In Short R Pipe overseas has proven record that We are the only one who can supply Steel Plates to Gulf & Asian countries in minimum lead time, So If you want to buy Boiler Quality Steel Plate from reliable supplier & Steel Plates specialiest in INDIA, check our free quote with minimum delievery time to your country which you will receive within an hour.



Boiler Steel Plates
The Boiler Steel Plates are widely used in fabrication of boilers in industries. These hot rolled steel plates are made available in variety of grades and thickness and are developed to a superior quality, deliberated to hold out the internal pressure in boilers and valves. Well known for its diversity of use and longevity, these boiler plates meet the exact requirements of the industries. The content of carbon in these high temperature steel plates are between 0.16 %-0.29 %. We also supply hydrogen induced crack resistant steel in SA / A516 Grade 70 HIC. The steel grade offered by us serves as default material for pressure vessel applications.
Available grades
• ASME SA516 Grade 70 and ASTM A516 Grade 70
• ASTM A516 Gr. 65 and ASME SA516 Gr. 65
• ASTM A516 Gr. 60 and ASME SA516 Gr. 60
Application Areas
• Shipbuilding
• Petrochemical manufacturing
• Boilers, pressure vessels, gas turbines manufacturing
• Heat exchangers, spheres, compressors and storage tanks manufacturing
• Manufacturing of skid mounted equipment designed for the oil and gas industry
• Other industrial and commercial purposes
Chemical Requirements
|  Element |  Thickness |  Composition (%) |  Note |
| --- | --- | --- | --- |
|  Carbon (max) |  12.5 mm and under |  0.27 | A, B, C  |
|   |  over 12.5 to 50 mm |  0.28 | A, B, C |
|   |  over 50 to 100 mm |  0.30 | A, B, C  |
|   |  over 100 mm |  0.31 | A, B, C  |
|  Manganese |   |  0.85 - 1.20 | A, C |
|   |   |  0.79 - 1.30 | B, C |
|  Phosphorus (max) |   |  0.025 | A, B  |
|  Sulphur (max) |   |  0.025 | A, B  |
|  Silicon |   |  0.15 - 0.40 | A  |
|   |   |  0.13 - 0.45 | B |
Notes
:
A - heat analysis, B - product analysis, C - For each reduction of 0.01% below the specified maximum for Carbon, an increase of�0.06% above the specified maximum for Manganese is�permitted, up to a maximum of 1.50% by heat analysis and 1.60% by product analysis.
Tensile Requirements
|  Mechanical Property |  Value |
| --- | --- |
| Tensile Strength, MPa (ksi)  | 485 - 620 (70 - 90)  |
| Yield Strength, min MPa (ksi) | 260 (38)  |
| Elongation min, % 200 mm (8 in) | 17  |
| Elongation min, % 50 mm (2 in)  | 21  |

Boiler Steel Plates Price in India

Boiler Steel Plate
Thickness: 6 mm to 150 mm
Width: 1250 mm to 2500 mm
Check Price In India -
Rs 52/ KG

Boiler Plates
R Pipe Overseas is one of the leading manufacturers, suppliers and exporters of Corrosion Resistant Steel
Check Price In India -
Rs 650/ Kilogram

Boiler Quality Plate
Used in construction of bridges and buildings
Material: Steel
Check Price In India -
Rs 100/ Kilogram

Steel Boiler Plates
we are involved in providing a premium quality range of Steel Boiler Plates
Check Price In India -
Rs 175/ Kilogram
Our Sales Associates are available in below Countries :
India, United Arab Emirates, Canada, Angola, Argentina, Austria, Peru, Chile, Spain, France, United Kingdom, Indonesia, Israel, Iran, Kuwait, Mexico, Malaysia, Nigeria, Serbia, Singapore, Taiwan, Chile, Brazil, Colombia, Ghana, Iran, Denmark, Poland, Costa Rica, Egypt, Iraq, Jordan, South Korea, Poland, Azerbaijan, Pakistan, Kazakhstan, Sri Lanka, Lithuania, Norway, Oman, Philippines, Saudi Arabia, Bangladesh, United States, Qatar, Russia, Vietnam, South Africa, Nigeria, Mexico, Turkey, Hungary, Algeria, Belarus, Belgium, Bhutan, Lebanon, Morocco, Mongolia, Bolivia, Bulgaria, Australia, Afghanistan, Bahrain, Croatia, Venezuela, Ecuador, Netherlands, Czech Republic, Estonia, Finland, Greece, Italy, Japan, Libya, Romania, Thailand, Trinidad & Tobago,Tunisia, Ukraine, Yemen, Hong Kong, Gabon, China, Portugal, Switzerland, New Zealand, Sweden, Slovakia, Kenya
Our Dealers and Distributors are available in below Cities :
Mumbai, Pimpri-Chinchwad, Vadodara, Kolkata, Gurgaon, Chennai, Surat, Dubai, Seoul, Hyderabad, Singapore, Abu Dhabi, Ahmedabad, New Delhi, Bengaluru, Tehran, Calgary, Noida, Riyadh, London, Kuala Lumpur, Rio de Janeiro, Dammam, Coimbatore, Jakarta, Istanbul, Bangkok, Kuwait City, Sharjah, Muscat, Edmonton, Busan, Bhopal, Ulsan, Faridabad, Houston, Jeddah, Aberdeen, Cairo, Geoje-si, Perth, Santiago, Chandigarh, Indore, Melbourne, Madrid, Thane, Navi Mumbai, Pune, La Victoria, Bogota, Lahore, Los Angeles, Algiers, Chiyoda, Ankara, Ho Chi Minh City, Toronto, Hong Kong, Rajkot, Brisbane, Petaling Jaya, Ernakulam, Secunderabad, Gimhae-si, Al Jubail, Port-of-Spain, Thiruvananthapuram, Milan, Ludhiana, Moscow, Dallas, Haryana, Colombo, Atyrau, Lagos, Hanoi, Howrah, Sydney, Ahvaz, Mexico City, Doha, Karachi, New York, Caracas, Vung Tau, Al Khobar, Manama, Montreal, Granada, Courbevoie, Visakhapatnam