Aluminium Alloy Sheets
Whether you need an offshore specification Aluminium Alloy Sheets in Singapore, Aluminium Alloy Sheets in Indonesia, or a pressure vessel plate in Saudi Arabia, we have floating stock of 800 ton Steel plates and logistical skills to deliver what you want when you need it.

At our stockyard / warehouse in Kalamboli, Navi Mumbai, Maharashtra, INDIA Steel Plates are available in a wide range of special metal grades like Manganese Steel, Alloy Steel, and Stainless Steel in numerous specifications. All Steel Plates Stocks are held to ASME, ASTM, EN, and API, Steel Plates are always available in surplus stock up to 15 metres long, 4 metres wide, and 300 millimetres thick. We are able to offer a solution to virtually any sourcing problem about Steel Plates.

R-Pipe Overseas is the only supplier of Aluminium Alloy Sheets, Hardox 400 Plate, Abrex 400 Steel Plate, Wear Resistant Steel, Sailhard Tiscral Las 07 Plate, Ar 400 Plate, High Manganese Plate, Hardfield Manganese Plate, Welten 780E Plate in India who delivered steel plates to Saudi Arabia in 3 days, to Sri Lanka in 2 days, to Iran in 8 days, to Singapore in 12 days, to Kuwait in 5 days, to United Arab Emirates in 3 days, to Japan in 10 days, to Qatar in 4 days, to Indonesia in 7 days & to Taiwan in 5 days. In Short R Pipe overseas has proven record that We are the only one who can supply Steel Plates to Gulf & Asian countries in minimum lead time, So If you want to buy Aluminium Alloy Sheets from reliable supplier & Steel Plates specialiest in INDIA, check our free quote with minimum delievery time to your country which you will receive within an hour.



Aluminium Alloy Sheets
Aluminum Alloy Sheets along with good welded properties are extensively demanded in the market for consumer electronics casings. The flexible aluminium sheets are capable of being bent through a specified angle without cracking for the different tempers and thicknesses.

These aluminium sheets are very strong when compared to other aluminum alloys and has middling machining ability. In addition to this, offered sheets are easily welded and are ductile enough for deep draws. Furthermore, it offers improved breakage toughness and fatigue fracture growth while sustaining the strength. These sheets are used in making heavy plates, alloy steel coils and carbon steel coils.
Attributes
• High quality
• Corrosion resistant
• Durable
• International standard
• Light weight
• Suitability for surface treatments
• Heat treatable
Technical Specifications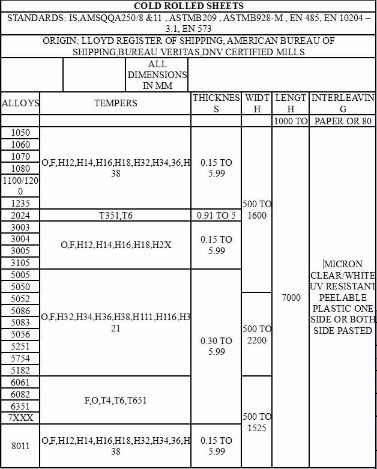 Our Sales Associates are available in below Countries :
India, United Arab Emirates, Canada, Angola, Argentina, Austria, Peru, Chile, Spain, France, United Kingdom, Indonesia, Israel, Iran, Kuwait, Mexico, Malaysia, Nigeria, Serbia, Singapore, Taiwan, Chile, Brazil, Colombia, Ghana, Iran, Denmark, Poland, Costa Rica, Egypt, Iraq, Jordan, South Korea, Poland, Azerbaijan, Pakistan, Kazakhstan, Sri Lanka, Lithuania, Norway, Oman, Philippines, Saudi Arabia, Bangladesh, United States, Qatar, Russia, Vietnam, South Africa, Nigeria, Mexico, Turkey, Hungary, Algeria, Belarus, Belgium, Bhutan, Lebanon, Morocco, Mongolia, Bolivia, Bulgaria, Australia, Afghanistan, Bahrain, Croatia, Venezuela, Ecuador, Netherlands, Czech Republic, Estonia, Finland, Greece, Italy, Japan, Libya, Romania, Thailand, Trinidad & Tobago,Tunisia, Ukraine, Yemen, Hong Kong, Gabon, China, Portugal, Switzerland, New Zealand, Sweden, Slovakia, Kenya
Our Dealers and Distributors are available in below Cities :
Mumbai, Pimpri-Chinchwad, Vadodara, Kolkata, Gurgaon, Chennai, Surat, Dubai, Seoul, Hyderabad, Singapore, Abu Dhabi, Ahmedabad, New Delhi, Bengaluru, Tehran, Calgary, Noida, Riyadh, London, Kuala Lumpur, Rio de Janeiro, Dammam, Coimbatore, Jakarta, Istanbul, Bangkok, Kuwait City, Sharjah, Muscat, Edmonton, Busan, Bhopal, Ulsan, Faridabad, Houston, Jeddah, Aberdeen, Cairo, Geoje-si, Perth, Santiago, Chandigarh, Indore, Melbourne, Madrid, Thane, Navi Mumbai, Pune, La Victoria, Bogota, Lahore, Los Angeles, Algiers, Chiyoda, Ankara, Ho Chi Minh City, Toronto, Hong Kong, Rajkot, Brisbane, Petaling Jaya, Ernakulam, Secunderabad, Gimhae-si, Al Jubail, Port-of-Spain, Thiruvananthapuram, Milan, Ludhiana, Moscow, Dallas, Haryana, Colombo, Atyrau, Lagos, Hanoi, Howrah, Sydney, Ahvaz, Mexico City, Doha, Karachi, New York, Caracas, Vung Tau, Al Khobar, Manama, Montreal, Granada, Courbevoie, Visakhapatnam