Alloy Steel Plates
Alloy Steel Plate Suppliers, Industrial Steel Plates, Alloy Steel Grades Price List in India
Manufacturer of Low-Alloy Steels and High-Alloy Steels in Mumbai, India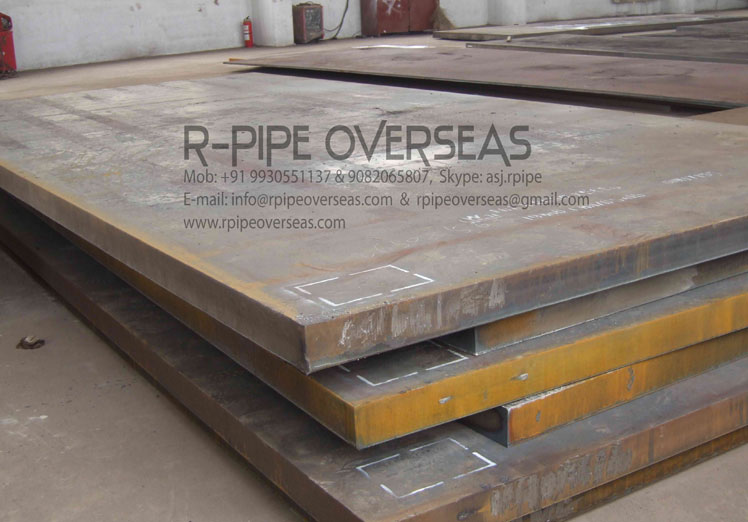 Original Photo Of Our Alloy Steel Plates Stockist In Mumbai, India.
Whether you need an offshore specification Alloy Steel Plates in Singapore, Alloy Steel Plates in Indonesia, or a pressure vessel plate in Saudi Arabia, we have floating stock of 800 ton Steel plates and logistical skills to deliver what you want when you need it.

At our stockyard / warehouse in Kalamboli, Navi Mumbai, Maharashtra, INDIA Steel Plates are available in a wide range of special metal grades like Manganese Steel, Alloy Steel, and Stainless Steel in numerous specifications. All Steel Plates Stocks are held to ASME, ASTM, EN, and API, Steel Plates are always available in surplus stock up to 15 metres long, 4 metres wide, and 300 millimetres thick. We are able to offer a solution to virtually any sourcing problem about Steel Plates.

R-Pipe Overseas is the only supplier of Alloy Steel Plates, Hardox 400 Plate, Abrex 400 Steel Plate, Wear Resistant Steel, Sailhard Tiscral Las 07 Plate, Ar 400 Plate, High Manganese Plate, Hardfield Manganese Plate, Welten 780E Plate in India who delivered steel plates to Saudi Arabia in 3 days, to Sri Lanka in 2 days, to Iran in 8 days, to Singapore in 12 days, to Kuwait in 5 days, to United Arab Emirates in 3 days, to Japan in 10 days, to Qatar in 4 days, to Indonesia in 7 days & to Taiwan in 5 days. In Short R Pipe overseas has proven record that We are the only one who can supply Steel Plates to Gulf & Asian countries in minimum lead time, So If you want to buy Alloy Steel Plates from reliable supplier & Steel Plates specialiest in INDIA, check our free quote with minimum delievery time to your country which you will receive within an hour.

Our assortment of Alloy Steel Plates is precision made using high grade metal and alloys. To ensure quality standards, industrial steel plates are tested as per the relevant industrial standards. Our range is available in various sizes, dimension, different material, different fitting ends and other related specifications for our clients.

Our Alloy Steel Plates are procured from distinguished manufacturers who provided us these Alloy Steel Grades in ASTM/ASME standards. Moreover, being a steel plates exporter, we also provide customized options of these plates to our clients.

Available range : Low Alloy Steel Plate, SA 387 Grade Plate & Chrome Moly Steel Plate
Low Alloy Steel enhances the mechanical properties and provides great resistance to corrosion than carbon steel. It varies from other steels in that they are not made to meet a specific chemical composition but rather to specific mechanical properties. In low alloy steel plate, the main function of the alloying elements is to increase hardenability in order to optimize mechanical properties and toughness after heat treatment. The increased strength of this low alloy steel plate means that equipment can be built stronger but lighter, with less steel.
Read More

Low Alloy Steel Plate
The SA 387 Grade Alloy Steel Plate is primarily used in welded pressure vessels where improved toughness is required. It is a low alloy pressure vessel quality steel for high temperatures. We offer a wide range of plate sizes which are accessible thickness range from 6 to 10 mm.
Read More

SA 387 Grade Plate
Chrome Moly Steel Plate is manufactured using chromium and molybdenum elements. The molybdenum element enhances strength and higher working temperatures while the chromium provides outstanding corrosion resistance and oxidation.
Read More

Chrome Moly Steel Plate
Widely known for its work hardening properties, Hadfield Manganese Plate is amenable to high-impact wear applications or those in which scratch abrasion is encountered. This steel plate enhances almost five times the hardness of mild steel and almost three times the hardness of annealed stainless steel. Due to this, one can enjoy a longer lifespan and extended protection of their equipment and facilities.
Read More

EN19 Grade Steel Plate
| | | |
| --- | --- | --- |
| Standard | : | ASTM / ASME A/SA 387 , 204 DIN 17175 , 15MO3 , 16MO3 |
| Range | : | 5 mm To 200 mm thick in 1000 mm TO 2500 mm width & 2500 mm to 12500 mm Length |
| Grade | : | F2, F5 , F9 , F11 , F12 , F22 , F91 , F92 , A & B , CLASS 1 & 2 |
| HSS in Grade | : | M2, M3, M35, M42 Etc. |
| Form | : | Foils, Shim Sheet, Rolls, Perforated Sheet, Chequered Plate. |
| Finish | : | 2B, 2D, HR,CR, BA NO(8), SATIN (Met with Plastic Coated), Hot rolled plate (HR) Cold rolled sheet (CR) |
| Specialize | : | Shim Sheet, Perforated Sheet, B. Q. Profile. |
| Other Services | : | Heat Treatment, Anneling, Pickling, Polish, Electroplating, Anodising, Rolling, Cutting, Bending, Forging, Minor Fabrication Etc. |
Features :
Corrosion resistant surface, Excellent durability, High strength, Excellent tensile strength
Application :
Used in structural, mechanical & general engineering purposes.
Technical Specifications :
Specification
Chemical Max
Mechanical MPA, min


C
Max
Min
Max
Si
Max
S
Max
P
Max
Cr
Max
Mo
Max
Ni
Max
Cu
Max
Tensile
Yield
% EL
Bend
50 GL
50 GL
ASTM A 387
Gr 11 - CI 2
0.17
0.40
0.65
0.50
0.80
0.04
0.035
1.0
1.50
0.45
0.65
---
---
515
690
310
22
18
---
Gr 12 - Cl 2
0.17
0.40
0.65
0.15
0.40
0.04
0.035
0.80
1.15
0.45
0.60
---
---
450
585
275
22
19
---
EN-19
0.35
0.45%
0.50
0.80%
0.10
0.35%
---
0.20
0.40%
0.90
1.50%
---
0.05
---
---
---
---
---
---
---
---
Gr 5 - Cl 2
0.15
0.30
0.60
0.50
0.035
0.035
4.0
6.0
0.45
0.65
---
---
515
690
310
18
---
---
Gr 22 - Cl 2
0.15
0.30
0.60
0.50
0.035
0.035
2.0
2.5
0.90
1.10
---
---
515
690
310
18
---
---
ASTM A 204
Gr-B
0.20
0.90
0.15
0.40
0.04
0.035
---
0.45
0.60
---
---
485
620
275
21
17
2T
16 Mo3
0.12
0.20
0.40
0.90
0.35
0.025
0.030
0.30
0.25
0.35
0.30
---
440
590
275
24
---
Impact :
+20C / 3

Alloy Steel Plate Price
Alloy Steel Plate Price in India

Alloy Steel Plates
Length: 2000, 5000, 10000 mm Width: 3000mm Dimensions: 10mm~800mm
Check Price In India -
Rs 100/ Unit

Low Alloy Steel Plate
Thickness: 3-4 mm, 4-5 mm, >5 mm
Check Price In India -
Rs 100/ KG

Alloy Steel Plate
Thickness: 3-800 mm Length: 1000-18000 mm Width: 1000-9000 mm Hardness: Soft, hard, half hard
Check Price In India -
Rs 140 / Kilogram

High Alloy Steel Plates
Thickness: 3-4 mm, 1-2 mm, 4-5 mm, 0-1 mm, 2-3 mm, >5 mm
Check Price In India -
Rs 160/ KG
Our Sales Associates are available in below Countries :
India, United Arab Emirates, Canada, Angola, Argentina, Austria, Peru, Chile, Spain, France, United Kingdom, Indonesia, Israel, Iran, Kuwait, Mexico, Malaysia, Nigeria, Serbia, Singapore, Taiwan, Chile, Brazil, Colombia, Ghana, Iran, Denmark, Poland, Costa Rica, Egypt, Iraq, Jordan, South Korea, Poland, Azerbaijan, Pakistan, Kazakhstan, Sri Lanka, Lithuania, Norway, Oman, Philippines, Saudi Arabia, Bangladesh, United States, Qatar, Russia, Vietnam, South Africa, Nigeria, Mexico, Turkey, Hungary, Algeria, Belarus, Belgium, Bhutan, Lebanon, Morocco, Mongolia, Bolivia, Bulgaria, Australia, Afghanistan, Bahrain, Croatia, Venezuela, Ecuador, Netherlands, Czech Republic, Estonia, Finland, Greece, Italy, Japan, Libya, Romania, Thailand, Trinidad & Tobago,Tunisia, Ukraine, Yemen, Hong Kong, Gabon, China, Portugal, Switzerland, New Zealand, Sweden, Slovakia, Kenya
Our Dealers and Distributors are available in below Cities :
Mumbai, Pimpri-Chinchwad, Vadodara, Kolkata, Gurgaon, Chennai, Surat, Dubai, Seoul, Hyderabad, Singapore, Abu Dhabi, Ahmedabad, New Delhi, Bengaluru, Tehran, Calgary, Noida, Riyadh, London, Kuala Lumpur, Rio de Janeiro, Dammam, Coimbatore, Jakarta, Istanbul, Bangkok, Kuwait City, Sharjah, Muscat, Edmonton, Busan, Bhopal, Ulsan, Faridabad, Houston, Jeddah, Aberdeen, Cairo, Geoje-si, Perth, Santiago, Chandigarh, Indore, Melbourne, Madrid, Thane, Navi Mumbai, Pune, La Victoria, Bogota, Lahore, Los Angeles, Algiers, Chiyoda, Ankara, Ho Chi Minh City, Toronto, Hong Kong, Rajkot, Brisbane, Petaling Jaya, Ernakulam, Secunderabad, Gimhae-si, Al Jubail, Port-of-Spain, Thiruvananthapuram, Milan, Ludhiana, Moscow, Dallas, Haryana, Colombo, Atyrau, Lagos, Hanoi, Howrah, Sydney, Ahvaz, Mexico City, Doha, Karachi, New York, Caracas, Vung Tau, Al Khobar, Manama, Montreal, Granada, Courbevoie, Visakhapatnam